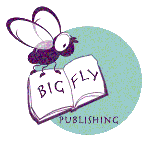 Big Fly Publishing

We're the part of Big Fly Games Ltd that publishes the books. In fact, the puzzle book that came out in spring of 2008, PrismaPixels; Colored Pixel Puzzles, was our first project. It enjoyed so much success that we followed it up in 2009 with our second book of these colofrul puzzles, Pocket PrismaPixels in a more compact size with over 50 all-new puzzles! And in early 2010, our third book, Mega PrismaPixels, was published, with over 50 larger and more challenging puzzles. You now have over 150 unique colored pixel puzzles to solve! But don't worry, we're not stopping there - more pixel puzzle books are in the works, including a book of easy puzzles especially for children or anyone just getting started.

If you'd like to know more about either PrismaPixels© book, click "Puzzle Books" above.

Coming in 2011 - our first book of another kind of puzzle invented by our creative puzzle makers... watch for details!

If you've created a book that you would like to publish in a small quantity, but don't know how to go about it or lack the time to do so, we would be glad to help you! Send us details about your book - number of pages, type of book, how many you want printed - and we'll contact you personally to discuss options or just give you a hand getting started.